NG Cup ☆ Decisive Battle For The Strongest Player
(ノゲ杯★最強ゲーマー決定戦

,

Noge Hai ☆ Saikyou Gēmā Kettei Sen

)
?
is a special TV program made for commemorate the airing of
No Game, No Life
anime. It is divided into 6 episodes, each around 11 minutes, which voice actors of
Sora
(Matsuoka Yoshitsugu),
Shiro
(Kayano Ai),
Stephanie
(Hikasa Yōko) and
Chlammy
(Iguchi Yuka) sit together and played some games. They are released via the AT-X TV channel, official site, and Media Factory's youtube channel for a limited time, and would be included in blu-ray release.
Introduction - Gachapon machine tasks
Explain the story of No Game, No Life (Vol. 1)
Introduce the characters they portray (Vol. 1)
Telling the highlights of their careers (Vol. 2)
What is your most recent addiction (Vol. 2)
Game battles
Puyo Puyo (Vol. 3)

1st: Matsuoka - 100p
2nd: Hikasa - 50p
3rd: Kayano - 30p
4th: Iguchi - 0p

"Find the lying wolf!" (Vol. 3)

Note: Matsuoka was the wolf and Hikasa was the only one who correctly identified him.
1st: Matsuoka - 100p
1st : Hikasa - 100p
3rd: Kayano - 30p
4th: Iguchi - 0p

Romance Quiz (Vol. 4)

Note: 3 girls vs 1 guy (Matsuoka)
1st: Iguchi - 10,000p
2nd : Hikasa - 100p
3rd: Kayano - 30p
4th: Matsuoka - -9,900p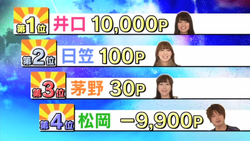 Ending (Vol. 4)
What they expect the anime to develop into
Final words to the viewers
Punishment game by Matsuoka
Ad blocker interference detected!
Wikia is a free-to-use site that makes money from advertising. We have a modified experience for viewers using ad blockers

Wikia is not accessible if you've made further modifications. Remove the custom ad blocker rule(s) and the page will load as expected.