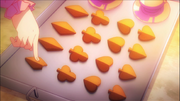 The Exceed (十六種族, Ikushīdo) refers to the 16 sentient races of Disboard whom the Ten Pledges apply to. They are ranked based on their affinity to magic.
No mixing across races is observed in Disboard. The top 6 races are regarded as "Life" (生命, Seimei) while the bottom 10 races are regarded as "Creatures" (生物, Seibutsu). The split between the top 6 and bottom 10 races represent the difference of heaven and earth, as the Seimei are vastly more powerful than the Seibutsu. All races were created by the Old Deus, except for the Imanity.
The Flügel reside in Avant Heim, the Elves reside in Elven Gard, the Werebeasts reside in the Eastern Federation, the Seirens, as well as the Dhampir, reside in Oceando, the Dwarves reside in Harden Fell, and the Imanity reside in Elchea. The names of the other countries which the rest of the races reside have yet to be revealed.
References
Edit
Ad blocker interference detected!
Wikia is a free-to-use site that makes money from advertising. We have a modified experience for viewers using ad blockers

Wikia is not accessible if you've made further modifications. Remove the custom ad blocker rule(s) and the page will load as expected.